GABS Festival Returns To Melbourne This Weekend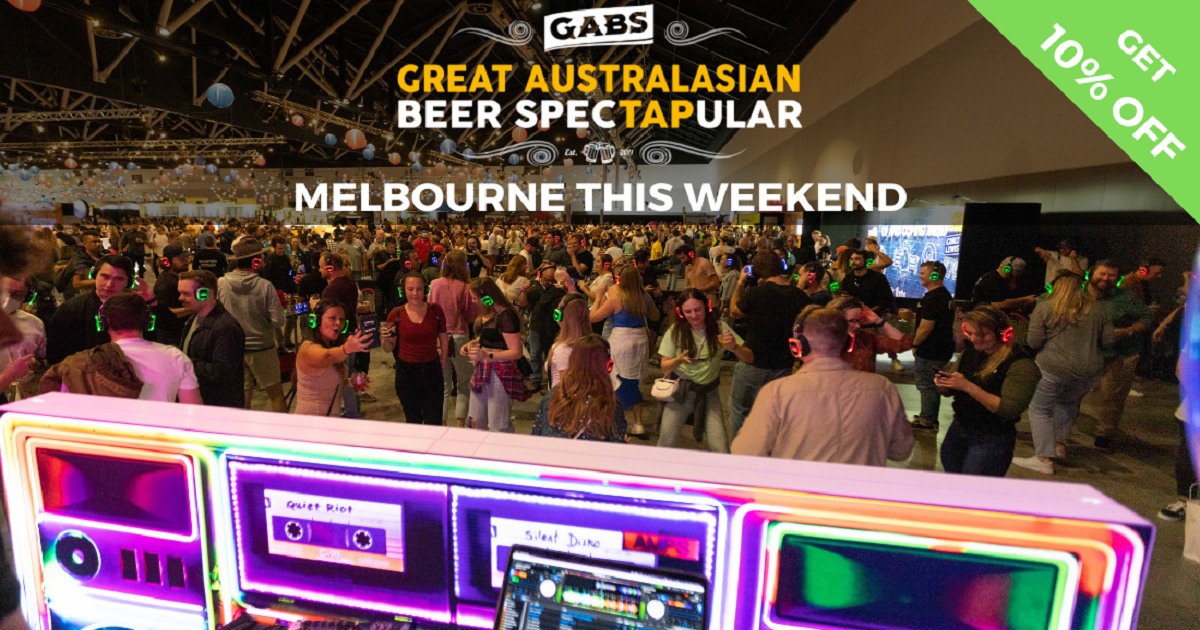 GABS Craft Beer Festival is celebrating its 11th edition in Melbourne this year and is back at its spiritual home for a stunning weekend celebrating everything about our amazing craft beer industry.
With 70 brewery stands, including some of the local offerings from Melbourne like Burnley, Hawkers, Stomping Ground, Banks Brewing, Hop Nation and Brick Lane's Sidewinder being joined by One Drop, Range, Ballistic, Akasha, Bentspoke and so many more! Rainbow coloured beer tasting paddles are the cornerstone attraction with 117 speciality beers brewed exclusively for the festival, making this year's lineup next level. From New York Cheese Cake to Fairy Floss inspired brews and everything in-between, there's something on the menu for everyone!
To help kickstart the events industry in Melbourne and support independent breweries after both sectors experienced a torrid past two years, GABS are kindly offering a special 10% discount on entrance tickets to the world famous Festival at the Royal Exhibition Building, Carlton Gardens this weekend, Fri 27 May - Sun 29 May.
Use code 'MOSHTIX' for 10% off any ticket type!
GABS CRAFT BEER FESTIVAL 2022
Fri 27 May - Sun 29 May 2022
Fri 27 May - Sun 29 May 2022 | Royal Exhibition Building, VIC
With GABS taking over Melbourne's Royal Exhibition Building this weekend, it's the only place in the world you will be able to try these beers!
Festival Beer # 32
Mountain Culture (NSW)
THE AWESOME BEER
STYLE: IPA - Milkshake ABV: 8 %
CHARACTER: Hoppy (Creamy & Fruity)
COMPLEXITY: Adventurous
The Milkshake IPA is a truly awesome flavour bomb, full of an awesome amount of tropical fruits thanks to excessive late additions of the most awesome Mosaic, Citra, Simcoe and Sabro hops before the finishing lusciously thick and creamy thanks to a trademark combo of lactose and awesome house yeast strain. Now that's a whole lot of awesome!
Festival Beer # 24
Capital Brewing Co (ACT)
SMOOCHES
STYLE: Experimental Beer ABV: 10 %
CHARACTER: Funky (Fruity & Roast)
COMPLEXITY: Adventurous
Like a sexy night at the hotel. Heaps of chocolate from cocao nibs and a big strawberry kick to give you that familiar sexy treat. Fermented with champagne yeast, pale in colour and extra spritzy. Sex in your mouth.
Festival Beer # 84
Garage Project (NZ)
MEGA MECHA HOP - MOSAIC
STYLE: IPA - New England (Double) ABV: 9 %
CHARACTER: Hoppy (Fruity & Juicy)
COMPLEXITY: Adventurous
Created using every possible preparation of Mosaic hops. Targeted additions of T90 pellet, cryo, extracts and oils, from mash to finished beer, to build dense layers of complexity and allow the perfect expression of varietal flavour. Exploding with lush super ripe mango, tetrapak tropical fruit juice, crushed stone fruit, squeezed citrus and just a hint of freshly mulled dank resin. Mosaic as you never have before.
HERE'S EVERYTHING YOU NEED TO KNOW ABOUT GABS CRAFT BEER FESTIVAL 2022
When do GABS Festival 2022 tickets go on sale?
Tickets to GABS Festival 2022 are on sale now.
When is GABS Festival 2022?
GABS Festival 2022 will take place in Brisbane, QLD on Sat 7 May 2022, Sydney, NSW on Fri 20 May - Sat 21 May 2022 and Melbourne, VIC on Fri 27 May - Sun 29 May 2022.
What payment options are available?
Moshtix accepts all major credit cards. Want to pay in installments? You can now use LatitudePay (AU) to purchase your tickets and pay them off over 10 weekly payments. Find out more HERE.
FOR MORE BREAKING NEWS CLICK HERE