Ten Female Artists From Australia And New Zealand You Need To See Live In 2021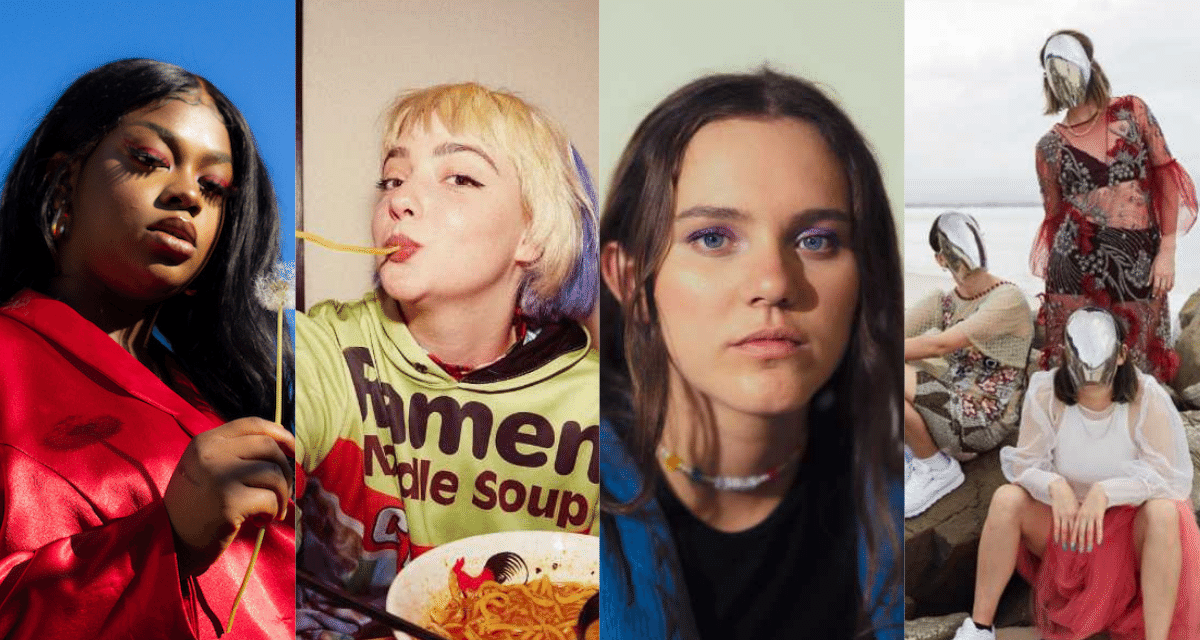 This International Women's Day we're highlighting game-changing female artists hailing from Australia and New Zealand that you can see live on stage across the Tasman this year. Check out the full list below.
Pricie
We can't get enough of 25-year-old Melbourne singer-songwriter Pricie. Her tongue-in-cheek lyrics and soul-infused hip-hop beats are dangerously delectable. You can catch Pricie performing live at the end of the month at Sydney's Oxford Art Factory and again in April at Melbourne's April Sun concert series. Deets below.
Wed 24 Mar - Oxford Art Factory, Sydney, NSW - GET TICKETS
Thu 29 Apr - April Sun, St Kilda Triangle, VIC - GET TICKETS
Molly Payton
2020 was a big year for London-based, Kiwi singer-songwriter Molly Payton releasing her new EP 'Porcupine' last year. To celebrate the release of her EP, Molly has returned to New Zealand to play a string of shows across the country. Check out where she'll be performing across the next few weeks below.
Thu 11 Mar - San Fran, Wellington - GET TICKETS
Fri 12 Mar - Tuning Fork, Auckland - GET TICKETS
Fri 19 Mar - Wunderbar, Canterbury - GET TICKETS
Mum Friends
Mum Friends is the project of Adelaide best friends Katie and Mia. The duo released their sold-out debut single 'Rails' late last year and are back in 2021 with more great tunes, announcing the release of their second single 'Woke Fuckboy', scheduled for release on March 19. The duo have also played alongside the likes of TOWNS, Teenage Joans, RAT!hammock and Cry Club. Celebrate the release of their forthcoming single at Jive in Adelaide next month.
Sat 3 Apr - Jive, Adelaide, SA - GET TICKETS
Sycco
19-year-old Sash McLeod is the singer-songwriter-producer behind solo project Sycco. Thanks to her stand out pop-infused neo-soul sound, Sash has become a rising star worth keeping an eye on. Last month she announced a string of east coast shows set for March and April, hitting stages in Melbourne, Sydney and Brisbane. This week, Sash also announced an appearance at Melbourne's newest concert series April Sun. Full details below.
Fri 19 Mar - Summer in the Domain w/ Hayden James & Mallrat - GET TICKETS
Fri 16 Apr - April Sun w/ G Flip, Touch Sensitive & Thomas Headon - GET TICKETS
Wed 21 Apr - The Lansdowne Hotel, NSW - GET TICKETS
Thu 22 Apr - The Lansdowne Hotel, NSW - GET TICKETS
Haiku Hands
Known for their high energy dance floor grooves, Haiku Hands have been a Mosh favourite for a hot minute now and we're absolutely loving the tracks they've been releasing recently. Coming off of a live dance party and performance at Sydney Fringe Festival in 2021, Haiku Hands will be gracing stages across the country in April and May. You can also catch the trio performing live at Yours & Owls Festival in April. Full details below.
Sat 17 - Sun 18 Apr - Stuart Park, NSW - NEW TICKETS JUST RELEASED
Sat 24 Apr - Oxford Art Factory, Sydney, NSW - GET TICKETS
Fri 7 May - Woolly Mammoth, QLD - GET TICKETS
Sat 8 May - Howler Melbourne, VIC - GET TICKETS
Babitha
Babitha is the first music project from Imogen Grist, a Sydney-based singer-songwriter who's unique alt-country sound has made her one to watch. Babitha celebrates the launch of her debut EP at Sydney's Mary's Underground this Friday and at Wollongong's La La La's next Thursday 18 March. More details and tickets below.
Fri 12 Mar - Mary's Underground, Circular Quay, Sydney, NSW - GET TICKETS
Thu 18 Mar - La La La's, Wollongong, NSW - GET TICKETS
MERCI, MERCY
Aussie singer-songwriter MERCI, MERCY is a pop artist hailing from NSW's South East. Her songs are the kind of songs you can never seem to get out of your head, remaining unapologetically herself throughout all of her releases. Catch MERCI, MERCY performing over the next few weeks at The Lansdowne Hotel in Sydney for her Thursday night residency. Full details below.
Thur 11 Mar - Thu 1 Apr - The Lansdowne Hotel, Sydney, NSW - GET TICKETS
Hope D
Hailing from Brisbane, alt pop-rock artist Hope D introduced herself to the Australian music scene in late 2019 with her debut single 'Swim'. Since then the singer-songwriter has captivated audiences with her larger-than-life lyrics and striking sound. Hope D performs across the country on her 'Cash Only' Tour kicking off this Thursday at The Triffid, you can also catch her performing at this year's Fresh Produce event at Toowoomba Showgrounds. Full details below.
Thu 11 & Fri 12 Mar - The Triffid, Brisbane, QLD - GET TICKETS
Thu 25 Mar - Oxford Art Factory, NSW - GET TICKETS
Sun 28 Mar - La La La's, NSW - GET TICKETS
Sat 4 September - Fresh produce, Toowoomba Showgrounds, QLD - GET TICKETS
D'Arcy Spiller
Indie-folk newcomer D'Arcy Spiller is one artist who has nailed the ability to transport you to achingly familiar places. She released her debut EP 'Little Demons' in June last year which features a collection of five tracks full of raw emotion, seamlessly fusing Indie and guitar pop sounds with touches of rock, soul and blues. D'Arcy performs at Brunswick Ballroom this Wednesday night as part of the Brunswick Music Festival. Full details below.
Wed 10 March - D'Arcy Spiller @ Brunswick Ballroom, VIC - GET TICKETS
Danika Smith
Local Melbourne musician Danika Smith has been kicking serious goals over the past year as her career continues to blossom. Her music features a lovingly timeless style of folk music with jazz and soul undertones. Following the release of her second single 'Sweet Mellow D' in October 2020, Danika performs live at The Gasometer Hotel on Thursday 18 March.
Thu 18 March - Danika Smith (Debut Band Show) @ The Gasometer Hotel, VIC - GET TICKETS


FOR MORE BREAKING NEWS CLICK HERE